In today's article, we will be talking about the top 5 auto Insurance Companies in USA. See the nation's top 5 largest auto insurance companies, ranked by market share, with customer satisfaction ratings and links to reviews.
Tons of companies have good car insurance, but can you name the country's top 5 auto insurance companies in USA off the top of your head? If Allstate, Geico, Progressive, and State Farm come to mind first, that makes sense: Together, these four companies make up over half of the personal auto insurance market in the U.S.
Company
Market share in 2018
Direct premiums
1. State Farm
17.07%
$42 billion
2. Geico
13.45%
$33.1 billion
3. Progressive
11.01%
$27.1 billion
4. Allstate
9.22%
$22.7 billion
5. USAA
5.89%
$14.5 billion
6. Liberty Mutual
4.79%
$11.8 billion
7. Farmers
4.27%
$10.5 billion
8. Nationwide
2.74%
$6.7 billion
9. Travelers
1.91%
$4.7 billion
10. American Family
1.91%
$4.7 billion
Source: National Association of Insurance Commissioners
What are the largest auto insurance companies?
1. State Farm
State Farm is the number one auto insurance company in the country in terms of market share and premiums written, followed by Geico, Progressive, and Allstate. When looking at the rankings of the top auto insurance companies in the USA, most of the names are recognizable due to their national television advertising campaigns and also based on the satisfaction they give to their customers at large.
State Farm is a great auto insurance company for anyone who wants a local agent, a personalized experience, and cheaper-than-average insurance rates.
The company currently employs approximately 60,000 employees and has nearly 19,000 agents. State Farm operates as a mutual insurance company, meaning that its policyholders own it.
2. Geico
Geico is also one of the cheapest auto insurance companies. It offers national availability and an easy shopping experience. Geico primarily sells auto insurance directly to customers online or by phone, but agents are available in some states. You can buy and manage policies through Geico's website or mobile app, and voice assistance is available through the app or via Amazon's Alexa.
Policies are available in all 50 states and Washington, D.C. According to our research of the largest auto insurance carriers, Geico is the best insurer for college students. In addition to auto insurance, Geico offers umbrella liability coverage and insures motorcycles and all-terrain vehicles. Auto insurance discounts are available to customers who buy other policies, such as home insurance, from companies that have partnerships with Geico. Geico's original customer base consisted of U.S. government employees and military personnel. Today, the insurance company's customer base has expanded to include people in the private sector.
3. Progressive
The Progressive Corporation is an American insurance company, the third-largest insurance carrier, and the No. 1 commercial auto insurer in the United States. The company was co-founded in 1937 by Jack Green and Joseph M. Lewis and is headquartered in Mayfield Village, Ref: Wikipedia
Progressive seeks to become consumers' and agents' No. 1 choice and destination for auto, home, and other insurance.
In addition to car insurance, Progressive sells umbrella liability policies, commercial auto insurance, and coverage for other vehicles such as boats and snowmobiles. Car insurance discounts are offered to customers who buy other policies, such as home insurance, from Progressive's partner companies. use the link to reach them for any further inquiries. https://www.progressive.com/contact-us/
4. Allstate
Allstate typically has better-than-average claims satisfaction ratings, but higher rates. However, the insurer offers a variety of discounts that can make policies more affordable for customers.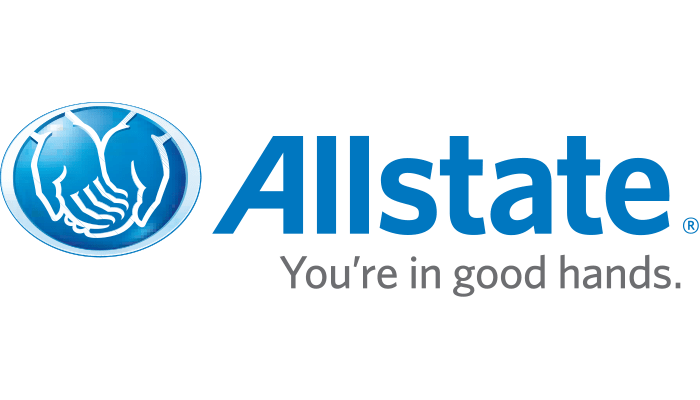 Allstate was originally founded in 1931 by the Sears company as a way to sell car insurance by mail. In the present day, Allstate has expanded to a major car insurance company with nearly 50,000 employees and a vast network of local offices.
Allstate sells auto insurance and a wide range of other products through agents in all 50 states and Washington, D.C. You can find an agent or get a quote on Allstate's website; the company's mobile app lets you manage your coverage, pay your bill and check on claims.
Though Allstate's rates are more expensive than the average cost of coverage, shoppers who want easy access to a physical office in their community will likely be satisfied with the company. Also, Allstate's discounts and Drivewise usage-based program allow some drivers to lower their cost of coverage.
5. USAA
USAA offers a wide variety of insurance products and gets high marks in customer satisfaction surveys. Customers can also invest and bank through USAA, which is the country's fifth-largest auto insurer, according to the National Association of Insurance Commissioners.
USAA offers online quotes and a mobile app for paying bills, filing claims or downloading insurance cards. In addition to auto insurance, USAA sells life insurance, umbrella policies, homeowners, renters, and landlord insurance.